Creamy Garlic Pasta
Wednesday, February 17, 2021
This is a pasta dish that is packed with flavor. It starts with silky homemade pasta cut however you prefer (I'm partial to fettucine or tagliatelle), paired with a sweet and creamy pasta sauce made with mirin and heavy cream. Next up are jammy garlic confit cloves, shredded roasted duck, bright cherry tomatoes, and optionally green peas or herbs for a splash of color.
This recipe can definitely become an adventure in making homemade pasta, garlic confit, and roast duck, but each component is straightforward and customizable. Make the pasta ahead of time or use dry. Roast the duck the day before or substitute with cubed chicken. Confit the garlic using the resulting duck fat or just use fresh cloves. Whichever path you choose will be a tasty one.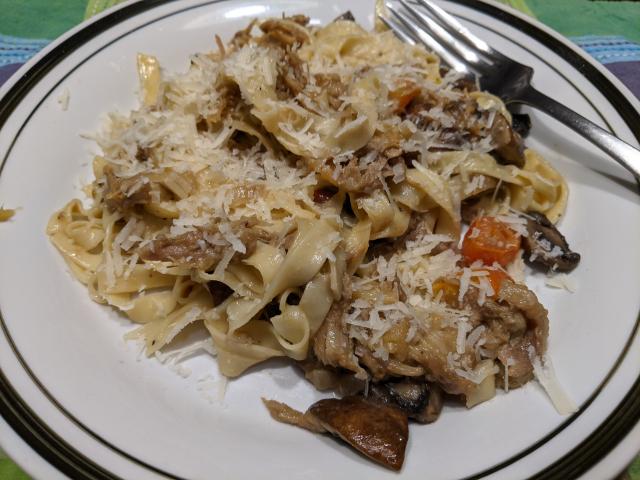 Ingredients
Pasta
Note: This will make extra pasta. Scale it up or down in whole egg increments as preferred. The directions assume the following amount, with half saved for a future dish.
200g 00 ("double zero") flour (all-purpose works too)

2 eggs

Pot of salted water for boiling
Cream Sauce and Mix-Ins
Neutral cooking oil (e.g. avocado oil), enough to coat the bottom of a pan or Dutch oven

1 shallot or onion, diced

1 leg or breast from a Roasted duck, roughly shredded

8oz cremini mushrooms, quartered

6oz cherry tomatoes, halved

2-3 sprigs of fresh herbs (e.g. rosemary, sage) (optional)

1/2 cup mirin

1/2 cup heavy cream

1/2 cup parmesan, grated and loosely packed, plus more for garnish

1-2 heads of Garlic confit cloves

1/2 cup green peas (optional)

Garlic powder, to taste

Salt and pepper, to taste
Directions
Making the Pasta
Place the flour in a stand mixer bowl and make a well in the center. Crack the eggs into the well, then using a fork, scramble the eggs while incorporating the flour bit by bit.

Move the bowl to a stand mixer with the dough hook attachment and mix on low speed for about 5 minutes after the dough comes together. Depending on the type of flour and the size of the eggs, you may need to adjust the hydration level. If it feels dry or there is unincorporated flour, add water one spoonful at a time until the dough is able to come together. If the dough feels wet and sticky, add flour a teaspoon at a time. When done, the dough should feel tacky but not sticky.

Remove the dough, knead by hand a few times, and shape into a ball. Wrap the dough with plastic wrap or wax paper, then refrigerate it for half an hour.

Divide the dough into quarters, and working with each quarter at a time, feed it into a pasta roller, following the instructions of your pasta roller as appropriate to roll it into the desired thickness. Cut each rolled pasta sheet into the desired width, either by using a pasta cutter or by rolling up the sheet and cutting with a knife. Unfurl the pasta and set aside on a pasta drying rack. Note: this will likely make twice as much pasta as needed, so dry or refrigerate half the pasta and save it for another dish.

Start boiling a pot of salted water as you work on the rest of the recipe. When the pot has reached a boil, dump in the pasta and cook for about 2-4 minutes or until al dente, then strain. Be sure to reserve at least a ladleful of pasta water for the sauce.
Assembling the Dish
Coat the bottom of a pan or Dutch oven with oil and set on medium heat. Add the shallots and cook for a few minutes until the shallots turn translucent.

Add the shredded duck, mushrooms, cherry tomatoes, and herbs (if using). Continue to cook for a few minutes until the mushrooms and tomatoes soften.

Slowly add the mirin and deglaze the bottom of the pot, then let simmer until about half of the mirin has evaporated.

When the pasta is done cooking, add it along with a ladleful of the pasta cooking water. Also add the heavy cream, grated parmesan, garlic confit cloves, and green peas (if using). Turn off the heat and stir to combine until the sauce thickens to the desired consistency. Season with garlic powder, salt, and pepper to taste.

Scoop the pasta onto plates and top with more grated parmesan.
Notes
This recipe was originally adapted from a copycat recipe of Chicken Farfalle from the Cheesecake Factory, although nearly every aspect of the dish has morphed into something different over time. I still occasionally catch myself referring to it as "Chicken Farfalle", even as I'm eating fettucine noodles with duck.