Roasted Duck
Monday, May 24, 2021
Duck is one of my favorite meats. Roasting it in a low oven for several hours results in crispy skin, tender meat, and a good amount of rendered duck fat for future use. To achieve enhanced crispiness and browning, I rub on a mixture of corn starch and baking powder in addition to salt and pepper, prior to baking.
I like serving this with a soy honey garlic sauce. To prevent the crispy skin from getting soggy, be sure to serve it on the side and apply just before eating.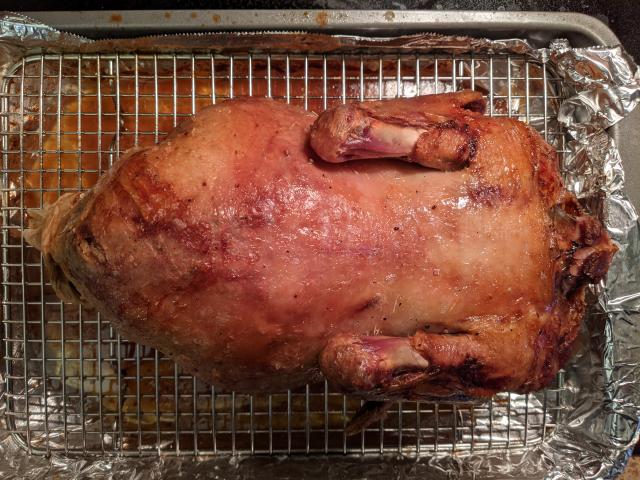 Ingredients
Duck, 4-5 lbs, preferably air-chilled

1-2 tbsp kosher salt

1 tsp corn starch

1 tsp baking powder

Pepper, to taste
Aromatics (optional)
Lemon, halved

Garlic head, top sliced off

2 sprigs rosemary

3 leaves sage
Soy Honey Garlic Sauce (Optional)
6-8 garlic cloves, minced

3 tbsp water

3 tbsp honey

1 tbsp soy sauce

1 tbsp rice vinegar

1/2 tsp fish sauce (optional)

Pepper, to taste

Garlic powder, to taste

Olive oil, enough to coat the bottom of a small saucepan
Directions
Score the skin of the duck with a paring knife on all sides. Whisk together the dry ingredients and rub the mixture all over the duck. Place on a wire rack over a foil-lined baking dish.

Remove innards (if any) and stuff the cavity with the aromatics, if using. Using twine or rolled up parchment paper, tie together the legs.

Roast at 300 degrees for 3.5 hours. Discard aromatics. Be sure to save the fat drippings that have collected in the baking dish by straining them through a paper towel and wire mesh into a jar and refrigerate.
Soy Honey Garlic Sauce
Saute the minced garlic briefly in olive oil. Do not let the garlic burn.

Whisk the other ingredients together and add to the garlic. Simmer until reduced by about half. The sauce will continue to thicken as it cools.