Roasted Vegetables
Monday, December 07, 2020
This method is by far the most frequent way that I prepare vegetables. It is suitable for a variety of different vegetables, but works especially well for those in the brassica family. Try to use vegetables that have similar baking times, and keep the amount to what can fit in a single layer on your baking sheet.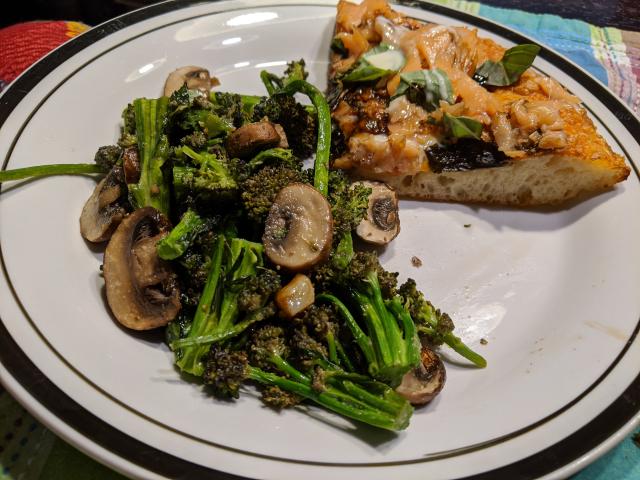 Ingredients
One or more of the below (baking time in parentheses):

Broccoli florets (20 minutes)

Broccoli stems, skinned and diced (20 minutes)

Yellow onions, diced into large strips (20 minutes)

Carrots, sliced (20 minutes)

Crimini mushrooms, sliced (20 minutes)

Broccolini or baby broccoli, whole or roughly chopped, and with larger stems cut in half (15 minutes)

Zucchini, sliced (15 minutes)

Avocado oil

Garlic powder

Salt

Pepper

Shaved hard cheese like parmesan or aged gruyere
Directions
Preheat oven to 400 degrees F. Lay vegetables on a parchment-lined sheet pan and drizzle avocado oil over. Then sprinkle garlic powder, salt, and pepper. Toss thoroughly and make sure that all the vegetables are in a single layer.

Bake at 400 degrees F for the appropriate amount of time (see ingredients list).

Top the vegetables with cheese, toss to combine, and then plate. Optionally, top again with more cheese.
Notes
I usually preheat the oven while washing and preparing the vegetables. I'm not particular about drying out the vegetables before baking, but that can help brown them more as it avoids steaming the vegetables.

Mushrooms release a lot of liquid during baking. The liquid is flavorful, but might inhibit browning if that is what you're after.