Maple Granola
Saturday, December 31, 2022
This is a quick and delicious way to make granola using rolled oats flavored with maple syrup. Some recipes have you roast the mix-ins like nuts or coconut flakes along with the oats, but I prefer to roast them separately to avoid one becoming done before the other, and then mix them together afterwards. Also, my mix-ins of choice are usually fresh fruit, which I add right before eating. I've used both olive oil as well as avocado oil, which is more neutral. Both are good options, so try both to see which you prefer.
Another excellent granola recipe I like is from Stella Parks. It might be superior texture-wise, but I prefer the below recipe because it's much faster, doesn't require buttermilk, and allows using maple syrup as the sweetener (whereas the longer baking time in Stella's recipe would cause maple syrup to burn).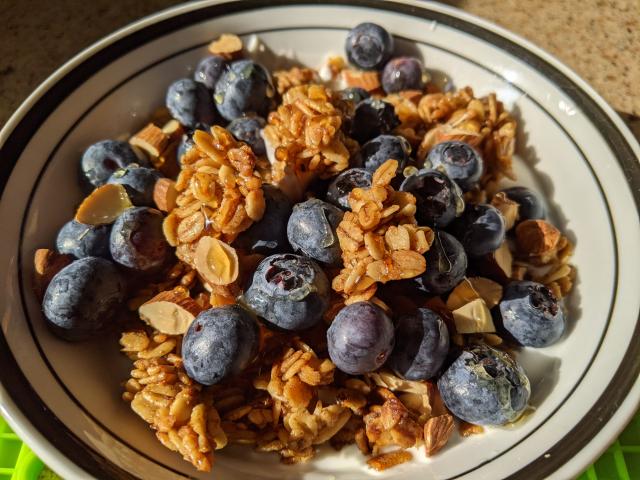 Ingredients
400g rolled oats

1 tsp sea salt

1 tsp cinnamon

1/3 cup olive oil or avocado oil

1/3 cup maple syrup

1-2 tsp vanilla extract
Add-ins (Optional)
Toasted coconut flakes

Roasted nuts, slivered, or seeds

Fresh or dried fruit, roughly chopped if large

Yogurt

Honey
Directions
Mix dry ingredients (oats, salt, cinnamon), then mix in wet ingredients (oil, maple syrup, vanilla extract), stirring well to evenly coat oats.

Spread evenly over a baking tray lined with parchment paper. Gently push the granola down with the back of a spatula.

Bake at 350 degrees for 25 minutes. Halfway through cooking, take out the tray, mix the granola, spread it out evenly again, and gently push the granola down with the back of a spatula. Put the tray back in for the remainder of the baking time, checking around the 20 minute mark to make sure the granola isn't getting too dark.

Remove from oven and let sit undisturbed for at least 45 minutes.

Mix in any dried add-ins as desired and serve over yogurt along with fresh add-ins. Top with honey if desired.
Notes
A common mix-in that I've been using lately is pumpkin seeds. I add them when I take the granola out of the oven at the halfway point, then mix it all together before putting the tray back in.

Adapted from Cookie and Kate's granola recipe with the mix-ins removed