Braised Duck and Vegetable Stew
Friday, December 18, 2020
This is a warming stew made from duck and hearty vegetables, great for a cold day. It goes great with rice or sweet potato noodles. I like to use pre-cooked duck legs confit from Fabrique Delices, but you can also start with fresh duck legs and stew them for longer.
This recipe uses a "drop lid" or "otoshi buta". For me, I take some parchment paper and cut it into a circle that is roughly the diameter my Dutch oven, and also cut a small hole in the center of it. The purpose of the drop lid is to keep the ingredients better submerged in the broth and more effectively trap the flavors and aromas of the stew.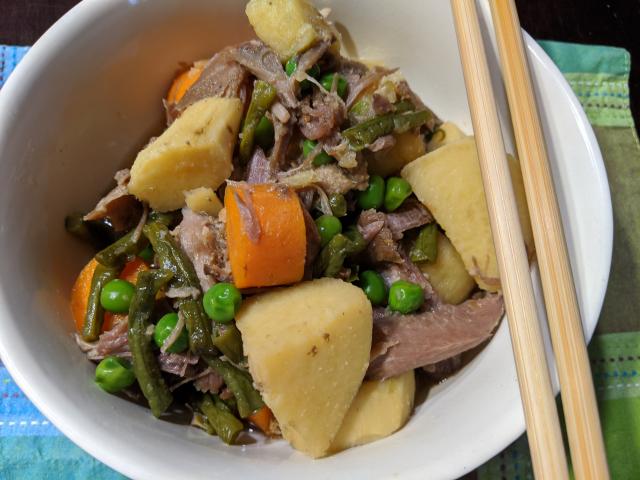 Ingredients
2 duck legs (I used pre-cooked duck confit, but fresh can work with a longer cooking time)

Avocado oil, enough to coat bottom of pot

2 carrots, chopped into 1 inch pieces

3-5 small/medium-sized Japanese sweet potatoes, peeled and roughly chopped

Yellow onion, roughly chopped

3 bulbs garlic, peeled and smashed

1/2 cup soy sauce

1/2 cup mirin

2 cups dashi or vegetable broth

1 bunch green beans, chopped (or 1 cup peas), either fresh or frozen

Garlic powder, to taste

Ginger powder, to taste

Salt and pepper, to taste

Cooked rice or sweet potato noodles
Directions
Fry duck legs on both sides in a Dutch oven with avocado oil until golden. Salt and pepper both sides while cooking. If there is excess duck fat, temporarily remove the duck legs and pour out (and reserve) the duck fat, then add the duck legs back to the Dutch oven.

Add vegetables. Slowly add mirin and soy sauce. Deglaze the bottom of the pot.

Pour in broth. Season with garlic powder and ginger powder and mix to combine.

Carefully lay a drop lid or otoshi buta over the ingredients and simmer for about 30 minutes.

Remove the drop lid. Move the duck legs to a plate and shred them into bite-sized pieces. The meat should easily fall off the bones. If they don't, cook them for longer and try again. Return the shredded meat back to the pot and discard the bones. Add the frozen green beans or peas, turn off the heat, and let the stew rest for an additional 30 minutes.

Add salt and pepper to taste, then serve in bowls over rice or sweet potato noodles.