Hawaiian Pineapple Bun
Monday, December 07, 2020
This recipe is a combination of two different kinds of breads: a soft and fluffy Hawaiian bun such as those popularized by the King's Hawaiian brand, and a Hong Kong pineapple bun (bolo bao) which gets its name from its cracked yellow cookie-like topping. Traditionally, a pineapple bun actually does not contain any pineapple. This recipe breaks away from tradition, incorporating canned pineapple juice into the Hawaiian bread dough, and adding an optional pineapple jam filling. The latter twist is reminiscent of buttered pineapple buns as well as Taiwanese pineapple cakes.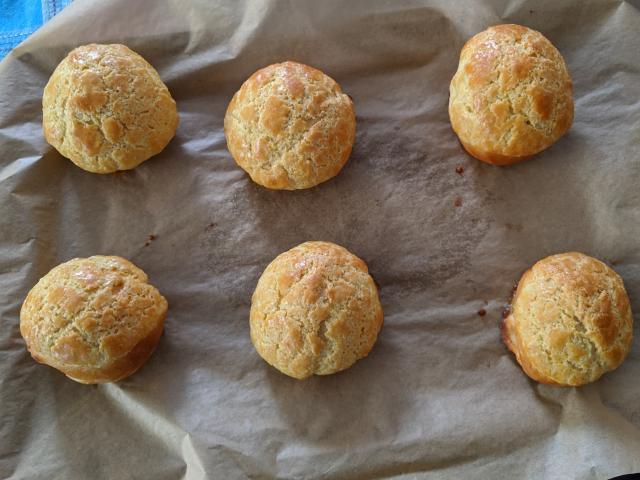 Ingredients
Hawaiian roll
Sponge

28g all-purpose flour

4g yeast (active dry or instant)

28g water, warm but not exceeding 100 degrees F

Dough

113g canned pineapple juice

57g unsalted butter, softened

71g brown sugar

2 large eggs plus 1 extra yolk, mixed

1 tsp vanilla extract

326g all-purpose flour

21g potato starch

6g salt
Topping
55g butter, room temperature

135g sugar

1 tsp vanilla extract

Egg yolk

1 tsp milk (oat milk is okay)

1/4 tsp baking powder

1/8 tsp turmeric
Egg wash
1 egg, mixed

1 tbsp water or milk (oat milk is okay)
Pineapple jam filling (optional)
Canned diced pineapples

Potato starch

Water
Directions
Making the Hawaiian roll
Mix sponge ingredients in a stand mixer bowl and proof for 15 minutes.

Mix wet ingredients into the stand mixer bowl.

Whisk dry ingredients in a separate bowl.

Add dry ingredients to the stand mixer bowl. Beat using flat beater for 3 minutes at medium-high speed, then scrape dough into the center of the bowl. Switch to dough hook and knead for at least 5 minutes at medium speed. The dough might still be sticky.

Lightly grease another bowl, round the dough into ball, place in bowl, and cover with plastic wrap. Proof at room temperature for 1.5 to 2 hours.

Deflate dough, then split into 16 pieces and shape each into a ball. Place balls on a baking sheet lined with parchment paper. Cover with plastic wrap and proof for 1 hour.
Making and adding the topping
Cream butter by hand or in a stand mixer.

Add sugar in increments.

Add egg yolk, milk, vanilla, and mix until combined.

In a separate bowl, mix flour, baking powder, and turmeric. Add to wet ingredients in increments and mix until combined.

To top the buns, take a spoonful of the topping dough and roll into a ball, then press between two sheets of wax paper so that it forms a flat circle. Carefully peel the topping away from the wax paper (inverting it into the palm of one hand and peeling away the wax paper with the other hand works for me), then add to one of the buns. Press down so that the topping conforms to the shape of the bun.
Baking the buns
Combine the egg wash ingredients in a small bowl.

Glaze each bun with the egg wash using a silicone brush.

Bake at 375 degrees F for around 15 minutes. Internal temperature should be > 190 degrees F.
Adding pineapple jam filling (optional)
Take canned diced pineapples and dice them further, then mash them a bit with pestle.

Simmer with some canned pineapple juice for about 15 minutes until reduced a bit.

Make a slurry out of the potato starch and water in a small bowl.

Add the slurry a spoonful at the time, mixing after every addition, until thickened to the desired consistency.

Split each bun lengthwise (but not all the way through) with sharp knife, then add pineapple filling.
Notes
Adapted from the following recipes: